Medtronic has a 25-year history and is a top diabetes monitoring equipment manufacturer. Medtronic's insulin pump and continuous blood glucose monitoring system can help diabetic patients to track and monitor their blood glucose levels, providing a data basis for patients to choose a healthy lifestyle. Medtronic is a leading company in the field of chronic disease treatment. They use 3D Systems to improve the quality and efficiency of new product development.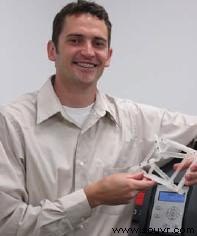 Medtronic's "Diabetes Automation Strategy Team" is located in Northridge, California. In addition to internal R&D, it also provides high-level rapid prototyping services. The main advantage of Medtronic is that the design and manufacturing cycle is short, and new products can be shaped and entered the market faster than other companies after design. The team hopes to maintain this advantage and plans to purchase a set of 3D printing systems that can be used indoors. The staff evaluated the 3D printing technology, and finally chose the ProJet? HD 3000 professional 3D 3D printer.
In the team, SolidWorks master Orion Pais is responsible for monitoring the ProJet 3000 printer, which has automatic functions and can run 24 hours a day. The main production items include product ideas, mold processing, packaging, training tools, etc. Pais said: "ProJet? can produce extremely small internal cavity parts with high accuracy and functionality. The parts produced are not only sturdy and durable, but also with high precision, which is unmatched by other similar equipment. Ours The products produced are generally very small. In order to facilitate training, we enlarge and print the cross-sections of the parts so that everyone can see the internal structure clearly."
In recent years, Medtronic's demand for 3D printing has increased. In order to meet new application requirements, the company's R&D department has added a second ProJet(TM) HD 3000 printing system, and also provides paid 3D printing services for other departments of the company. . Pais said: "The ProJet(TM) HD 3000 3D printer has become an important tool for the company. The three-dimensional model is visible and tangible. Compared with simple simulation technology, it is more intuitive and realistic, and it can save a lot of time. It has virtually increased the competitiveness of the company."